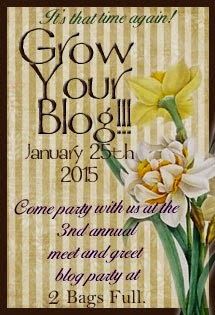 Hi everyone,
I saw this button on a blog page and wanted to join in the fun.
I love meeting new people and discovering new blogs., so this would be perfect for me.
My name is Monique Elisabeth and I have been blogging on and off for quite some years now.
Last year I had me 50th birthday and that has been a very imporant point in my life.
I was operated on in 2012. My thyroid was removed for the largest part and after that things only got better. I lost a lot of weight, stopped colouring my hair and started to do all kinds of things I like, because my energy was back.
I have an auto imune disease ( Hashimoto), which is under control with medicine.
I enjoy my family and pets, gardening, knitting, crochet, baking, cooking, reading, singing and so much more.
This blog will be a little look inside my life and will show you the things I enjoy.
I hope you will love your visit here and I hope to visit you too.
Please leave a comment. I love comments ; )